It takes style and substance to stay at the top in any business. It's not simply about having a great product to ensure success, there are myriad other factors that contribute to realising achievement. Just ask Zenith. You could say being the best of the best is what they know.
So, it is no small step to understand why Zenith is once again a supporter of the 2023 INDE.Awards, returning as the Platinum partner and sponsor of the Best of the Best category. It takes one to know one. While gold may glitter, platinum outshines them all and Zenith is used to being the best at what they do.
While the INDE.Awards recognises and celebrates excellent design, talent and creative endeavour, Zenith realises that proof of these things is in an outcome. For example, to be awarded the accolade of Best of the Best at the INDEs is the ultimate honour and the rigour of the process in deciding who receives the award is intense. There is entry and shortlisting, a win in a particular category and then, from all category winners, the acknowledgement of being the best of them all. It's a long road to the top.
Zenith's ongoing success since 1956 has been driven by its continual curiosity and unwavering commitment to the highest level of quality and service. By embracing each wave of new technology, Zenith is driven by a desire to create quality innovative solutions for modern workspaces.
A belief in innovation in design, manufacturing and distribution has led to Zenith's agility and versatility. Zenith has developed a 'vertical integration model' with local manufacturing plants throughout the APAC region which allows it to be agile and versatile in design, manufacturing and delivery operations. This further facilitates exemplary service by providing timely personalised offerings throughout the region.
This holistic approach has guided each product design intent, driving solutions with sustainability and optimum quality in mind. The design-led, customer centric business model integrates research and development, visualisation, ideation, production, manufacture and implementation into a seamless experience.
While Zenith has been an integral part of the INDEs since inception, its support shows that the best of design is to be celebrated because that is how this business sees its role within the architecture and design community. It leads by example always presenting outstanding products and collections in bespoke showrooms that are designed for ease of use for an architect, designer and their clients. Solutions are at hand for every design challenge and service is the cornerstone of each interaction.
While Zenith has made its name over the past years, the business has incredible staying power and is ever evolving, consolidating and expanding. In 2023 the company stands at the pinnacle of furniture supply as 'Curators of the Modern Workplace'. Zenith's reach is truly across our Asia-Pacific region with showrooms in six Australian capital cities, Auckland, Wellington and Christchurch in New Zealand, and also Singapore, Hong Kong, Shanghai and Shenzhen in China. For Zenith, it is about being on the ground to support architects and designers and, with the many retail establishments in multiple countries, it's obviously doing everything right to connect to its clients.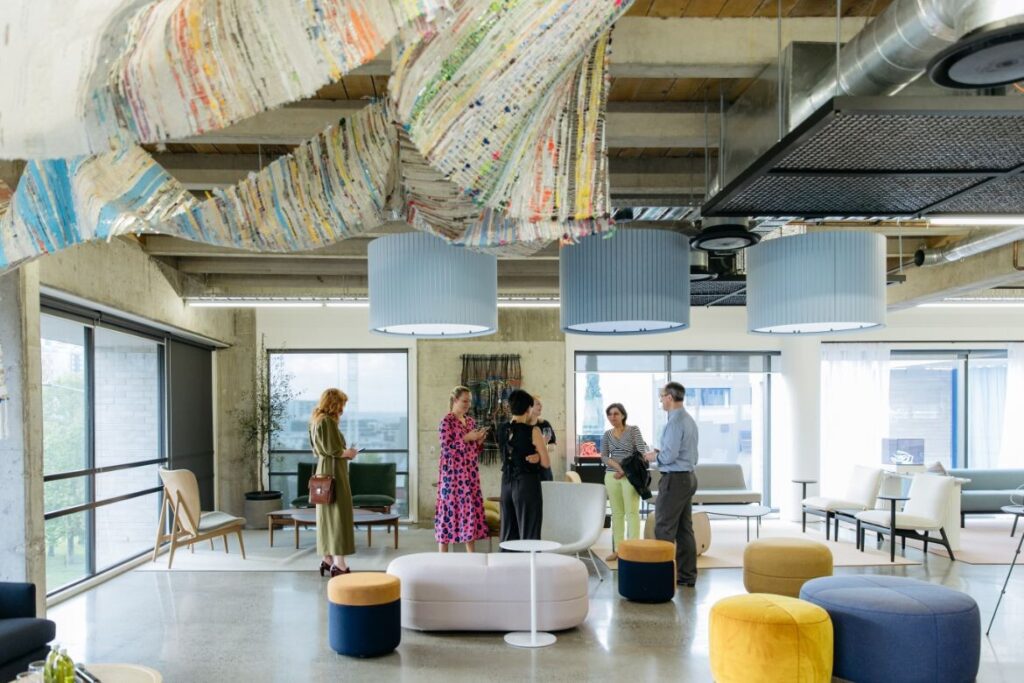 At Zenith there is no room for complacency. Being the best is hard work but it's worth it and gratifying in the knowledge that this company is not merely gold but the most valuable of all, a platinum business.
Zenith's commitment to people, building strong relationships, sustainability and performance excellence has guided its partnerships and long-term relationships; collaborating with select, imaginative and high-integrity partners.
As Peter Appel, Zenith Sales Director, APAC says, "Zenith is delighted to provide support and commitment once again to the annual INDE Awards. We wholeheartedly believe in recognising and rewarding innovative, mindful design and are proud to be supporting the design community,"
At Indesign we would like to thank Zenith for its ongoing commitment and support this year in the 2023 INDE.Awards. The Best of the Best is truly the pinnacle of achievement for an architect or designer in our awards program and we, like Zenith, applaud the very best.
The 2023 INDE.Awards is now open for entry. Now is the time to submit your project or product and have the opportunity to become the Best of the Best. When you're at the top there is a wonderful view, ask Zenith it knows.
---