i Light Marina Bay, a URA-organised light art festival, makes its sixth run from 9 March to 1 April 2018. This year, the festival presents 22 installations from 14 countries and for the first time, the showcase is extended beyond Marina Bay area to the Esplanade Park, where six out of the 22 installations are located. This year's festival line up was curated by a panel of experts from the fields of arts, architecture, urban planning and lighting, which included Dutch artist Daan Roosegaarde, FARM Director Peter Sim and Art Science Museum's Executive director Honor Harger, to name a few.
The festival has also expanded its outreach; at the homefront, it has included local happenings Art Zoo Inflatable Park, Gastrobeats and Illumi Bar as festival hubs. It has also collaborated with overseas light festivals Scottsdale Canal Convergence in the United States, Bella Skyway Festival in Poland and LUX Light Festival in New Zealand, with which the festival will cross-share its selected light installations.
Here are 12 installations that have caught our eyes this year.
1. Dreamscape by Magdalena Radziszewska
Polish artist Magdalena Radziszewska has covered Anderson Bridge with numerous giant orchids and lit them with delicate light that transports the viewers to the world of dream and fantasy.
2. Dancing Grass by Siyoung Kim and Yuree Hong
Hailing from South Korea, lighting designer Yuree Hong and architect Siyoung Kim present larger than lifem glowing blades of grass to touch, feel and hug. The blades of grass are both moved by the wind and artificial mechanism. Created with different heights and movements, these blades of grass symbolise the diversity in Singapore.
3. Flawless by Studio ALEX Architectural Lighting Experience Image
A collective based in the Netherlands and Italy, Studio ALEX – Architectural Lighting Experience Image presents Flawless – an installation that captures the movement of shedding leaves and its reflection. Flawless uses a concept of photoluminescence; the pigments of the leaves absorb energy from the sunlight, giving them a bright green glowing colour at night. In this way, the installation is self-sufficient and self-illuminated.
4. MailboX by Christopher Simpson and Isabella Bain

Aussie designers Christopher Simpson and Isabella Bain's MailboX aim to bring the joy of opening a mail to the era of social media. Viewers can send a tweet using the hashtag #ilightmarinabay that will be then displayed on MailboX's facade, which will respond to the volume generated by the crowd – the livelier the crowd, the happier and more colourful the digital 'face' that the installation will make.
5. Octopoda by amigo and amigo
Octopoda by Australian collection amigo and amigo is another installation that invites public participation to activate. When the drums installed at the base of its tentacles, the steampubk octopus will come to live with a dazzling play of light and movement.
6. Passage by Serge Maheu
Inspired by a near-death experience, Canadian computer engineer and artist Serge Maheu has created Passage, an interactive artwork that explores the emotional connections we develop with light and sound. Walking along the installation's runway will activate light animations and sounds.
7. Himantura by School of the Arts Singapore
Created by a student's team from School of the Arts Singapore, Himantura is a kinetic light sculpture inspired by the hypnotic movement of a stingray and the bioluminescence of sea creatures.
8. Light Breeze by LASALLE College of the Arts Singapore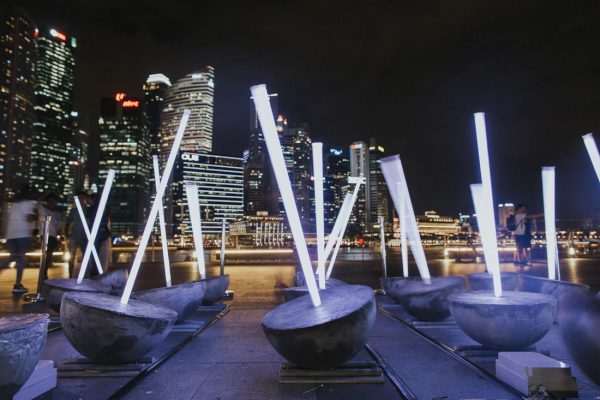 Inspired by the gentle sways of the cogon grass, affectionately known as the lalang plant, Light Breeze by a team of students from LASALLE College of the Arts Singapore is a tribute to the overlooked and diminishing flora and fauna within Singapore's ever urbanising landscape.
9. Illumaphonium by Michael Davis
A creation of British artist Michael Davis, Illumaphonium is a three-and-a-half-metre-tall semi-acoustic, semiautomatic, multi-player musical sculpture comprises two freestanding panels suspending over a hundred illuminated chime bars. Each chime bar responds to touch with patterns of light and sound, bringing people together into a spontaneous music-making experience.
10. Milk Bottle Cows by BP Loh
Milk Bottle Cows by Singapore architect BP Loh aims to send a message of sustainability in a delightful way. It reuses over 2,000 milk bottles, or approximately a seven months' worth of plastic waste generated by an individual, to promote recycling an upcycling, and enrich your Instagram feed.
11. Transistable Plastic by Luzinterruptus
Vacuum bags were filled with coloured plastic containers and LED lights and flattened to create panels used to build Transistable Plastic. This installation by anonymous Spanish collective Luzinterruptus invites visitors to lose themselves in its interior and experience the thrilling sensation of claustrophobia. Visitors may enter inside by rotating the panels.
12. Evergreen by Limelight
Video mapping on the facade of the ArtScience's museum has become a tradition of light festival. This year, the task is commissioned to Limelight, a group of 3D projection artworks and light artists from Hungary. Their three-minute video projection titled Evergreen, depicts our relationship with the digital world and nature and explores how our world can be traditional but modern, organic and natural but high tech and digital, robotic but human at the same time.
Photography by Colossal Pro.
---